The Voiceover Process
Since we do voiceover for all our characters, localizing for multiple languages takes longer time than you'd expect .First, the dialog script needs to be accepted by the IP holder. Then the script needs to be localized to each specific language. This comes with challenges on its own, such as jokes, cultural references and sentence structure. Then the right voiceactors need to be cast for one and/or more characters. Each language has its own unique set of voiceactors, so each languages doubles the amount of actors involved. This is process is made much more easy by skilled people such as Jory Prum. Then we receive the dialog from the studios and we can get to work to implement it. Here we check if the dialog matches in length, and if any text goes out of bounds.
Featured by Apple
This easter, we were very happy to find ourselves featured by Apple among "best new apps" in Norway, Sweden, Denmark and Finland. This led us to being the #1 kids, adventure and family game in Norway, Sweden, Denmark and Finland (iPad) and top 5 game overall in Norway, Sweden, Denmark and Finland (iPad).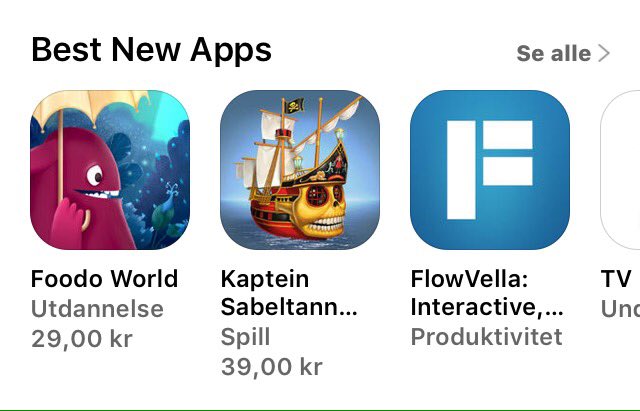 Android Version
We're working on getting Captain Sabertooth and the Treasure of Lama Rama to Android devices as soon as possible. We have run into some slight issues with translating how shadows work, and we want to get it just right. We'll keep you updated.